You may ask, what's the purpose of this Blog?
In short, I think it's important you get to know who's behind supporting your business and what my driver's are, and two, what's my purpose and why I chose HR!


My initial career started in Hospitality where I dreamed of becoming a Hotel General Manager for some fancy hotel one day.


Back to the driver's, there's a story about my childhood I was always ashamed of, however in recent years I have been proud and delighted to be able to use my learnings and experiences, to help others grow and succeed.


During Primary School, I had severe learning difficulties and towards the end of my primary years, I used to attend 1-2-1 extra tuition at a learning difficulties centre in Barnet, Hertfordshire on a weekly basis.
Despite the help offered, I never managed to catch up, nor did I benefit from the support in a timely manner that would set me up for Secondary School.
Secondary School, became the most horrendous years of my life, not only with my learning difficulties and repeated failures in anything academic, but also the bullying that came from being 'Deemed Backwards'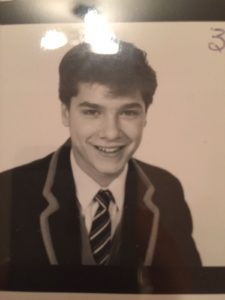 It was clear, over the five years of this educational experience, that I JUST gave up!
So, to no surprise, I left school with zero GCSE's at the time, perhaps scraping a C in Art, but I can't even remember now, probably as I've blocked out most of those years from my mind.
I then worked two years in a 'Dead End Job', with no career aspirations or hopes at the time.
Then something within me switched, I realised I wanted more in life, but didn't know how? How could someone with such profound learning difficulties, who was only accustomed to being mocked for these shortcomings think BIG?


I then decided to join a college in Stanmore, studying a BTEC First Diploma in Catering.  I chose this as I knew it was mainly practical and that this could help me to perhaps get through college.


It was only halfway through year one of this academic year, that I realised I had an element of potential; this then grew to energy, excitement, and determination to be more inquisitive to learn. I left my two-year course with a Distinction and an amazing portfolio, which meant the absolute world to me at the time………


I then signed onto studying my BTEC National Diploma in Hospitality at Hendon College, where again I excelled in a further two-year course, and an incredibly talented mentor and lecturer called Derek House.  This one man saw potential in me like no-one else, gave me time and unlocked an inner confidence I never knew existed. This gave me hope. If only I could find him to show my eternal gratitude to him.


Following the end of this course, achieving Distinctions, he recommended I stay on and enrol for the HND in Hospitality (Higher Education Course).  Again, an amazing couple of years studying, learning, and getting to know myself better.
I left Hendon College with mainly Distinctions, (not bad for the kid that couldn't read or write at the end of Primary School).  At this point Derek pushed me to study a Degree at Middlesex University in Hendon.  What?, came to mind!.  How can I ever go to university??? I'm not clever enough………..
I was accepted at the campus on a Fast Track programme, which meant instead of studying the usual 4-year sandwich course, I was accepted as undergoing a Top Up Degree, given previous credits and successes.
That university year was TOUGH, but I grafted and built the resilience to grow and succeed. To my disbelief, I left my degree with a 2:1 Bachelor of Honours Class. The most inspirational moments of my life, other than having Derek mentor me, was reading a book by Tony Buzan, titled 'Use your Head'.  This book was incredibly life changing as it taught me everything on how to unleash the power of my brain, to maximise its potential, store information and to excel. I could resonate with one of his readers from similar circumstances to me, who later went on to becoming a Grade A student at Cambridge University.


After graduating, I went on to start my career in the Hospitality Industry and not before long, I became Hotel Operations Manager, also overseeing HR, and excelled in this role, working in a Hotel in Harrow, NW London.  Within five years of working, my General Manager at the time was due to leave for maternity leave, and I was offered to take over the GM role during her absence.  It was in this moment I decided I didn't want to be a General Manager, I wanted to work in HR and help change people's lives for the better and to support people in the workplace……….


I shortly left my role, rejecting the great opportunity offered to me, and returned to Middlesex University to study my CIPD Professional HR qualification (Post-Grad).
This was the hardest two years of my life, while also working full-time in a luxury four-star hotel in Knightsbridge as HR and Training Manager and with a new-born on the way!


Through determination, sacrifice, self-belief, and resilience I graduated again as a fully-fledged HR professional, reaching the highest ranking of a Fellow Accredited Member of the CIPD.


The journey I have been through, has provided me with the determination, passion for HR, people development and grit to help others, that I finally decided to open NESE HR Consultancy, to support my clients and their business to flourish and succeed. My passion, energy, and resilience help me to fully understand the needs of others and how I can truly make a difference to you and your business.


Thank you for taking the time to read my journey that led me to open NESE HR. I firmly believe I can add value and help drive change to your business through 20+ years of experience in a multitude of industries, together with my accreditation to coaching and mentoring.


If you're interested in hearing more, or simply want to hear how I can help transform your business, please contact me on franco@nese-hr.com.
Together we can achieve great things……….
Franco